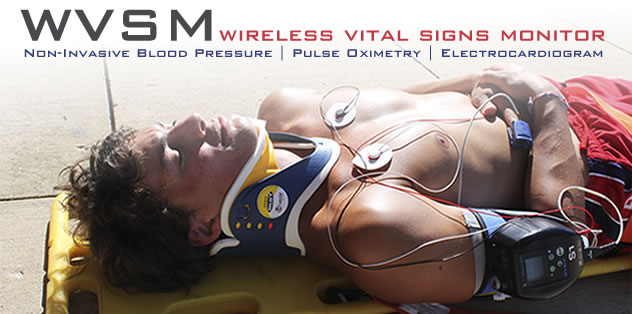 The Wireless Vital Signs Monitor from Athena GTX® is quickly becoming one of Sartin Services most popular options. The WVSM is equally effective when used in conjunction with a MAB® or used independently in the field.
---
---

The WVSM is a small, patient-worn device that automatically monitors NIBP, SpO2 and 3 lead (Lead II) ECG.
---

The WVSM weighs approximately one pound and velcros directly to the BP cuff.
---

All patient vitals streamed via a direct wireless connection to a computer, tablet or smart device.
---

Up to twenty (20) WVSMs can be synced with a centralized computer enabling the real-time monitoring of up to 20 patients within 600 linear feet of a MAB®.
---

The WVSM captures and records up to 4.5 hours worth of patient history. Once in range of a device running the included software the Wireless Monitor will automatically transfer this information. The software will then trend and color code each patient based on their condition.
---

The unit was designed specifically for the Special Forces based on their recent experiences in the Middle East. Project development was funded by the United States Department of the Naval Research.
---

The small size and light weight the WVSM makes it perfect for SAR and structural collapse situations where a full-size monitor just won't work.
---

And because the WVSM is patient worn, patients can walk around while being monitored. This makes it ideal for hospital emergency departments, HAZMAT teams and firefighter rehab.
---

In situations where full cardiac monitoring capability isn't needed, the WVSM can be a less cumbersome and more practical alternative.
---

The remote monitoring capability of the system allows for effective incident and patient management at distances of up to 100 yards.
---

WSVM operates on a single-charge for up to 8 hours under normal use conditions (full wireless data transmission), but low-power configurations exist which may extend battery life.
---

The diversity of devices with which the WVSM software will work ensures that vehicle mounting and integration options are virtually limitless.
---

The WVSM software can be projected onto the dry erase walls of a MAB®.
---

For the ultimate in portability, the WVSM software can be integrated into a PDA, or smart device.

For more information call:
Freeman Jones
National Sales Manager
Sartin Services, Inc.
336-841-5505 ext. 206
freeman@sartinservices.com